Donald Trump is a billionaire real estate developer-cum-TV star, but he's gone broke once or twice. He's made some of that back by writing books about how to get rich; I don't know that he's written any on staying rich. I will say that, for a billionaire, the cover art on his books is uniformly terrible. They look like they were designed and executed in about ten minutes. I guess that's one way to maximize profits.
I haven't read any of Trump's books; I'm sure that's why I'm not a billionaire yet. That and the fact that my father and grandfather didn't start me off by amassing fortunes. Oh, and I'm fundamentally lazy.
I was watching Jamie Johnson's revealing "Born Rich" again the other day. Trump's 23-year-old daughter Ivanka has inherited her father's chipmunk cheeks, but on her they look adorable. She has her father's churlish pouty lips, but on her they look sexy.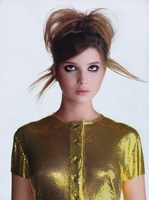 So Donald, I'm available to design the cover of your next book. My fee: a date with your daughter (you're buying).